The bulkhead under the southside of the Chestnut Street Bridge is compromised, resulting in a 5 x 10-foot sinkhole on the trail surface which is currently covered with steel plates.
PennDOT has agreed to repair the bulkhead as part of their Chestnut Street Bridge project. Bridge work began in 2017 and the bulkhead repair will likely happen in early 2021. Completing this work as part of the bridge project is a good example of PennDOT and the City working together to make a permanent repair of a long-standing trail problem, and will dramatically reduce mobilization costs associated with the repair, which is estimated to cost over $1M. We appreciate PennDOT's cooperation in including this work in the larger bridge project.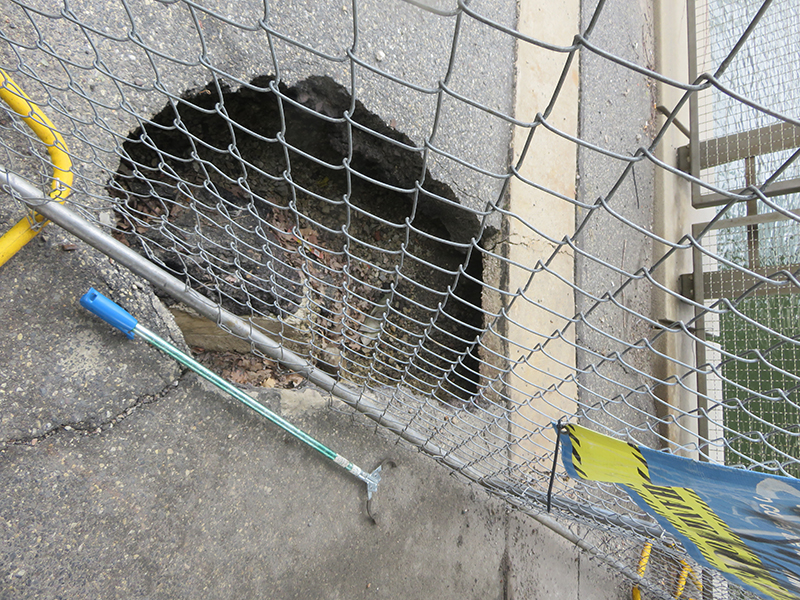 Above image shows the large sinkhole on the trail surface that was caused by the degraded bulkhead.
PROJECT UPDATE - February 2021: PennDOT intends to rehabilitate the bulkhead under the Chestnut Street Bridge starting on or about February 15 and expects the work to take two to three months. This is a major repair and will involve divers and barges in the river and large equipment on the trail, including a pile driving rig. Due to the size and complexity of the project and restricted space, the trail under the Chestnut Street Bridge will need to be closed in order for the work to be completed safely. We understand this is a significant inconvenience for trail users - it is for trail maintenance staff also. The trail closure is of relatively short duration and addresses a trail safety issue that is otherwise un-funded. And if left unaddressed, this structure will continue to deteriorate and could collapse further necessitating a trail closure without any remedy in sight. We appreciate your understanding and patience while the trail is closed. Read the PennDOT press release here.
To navigate around this area during the trail closure, please exit the trail using the Walnut Street Bridge Stair Towers just south of the project site or the Market Street Ramp just north of the project site.
Email us at [email protected] or call us at 215-309-5523 with any questions.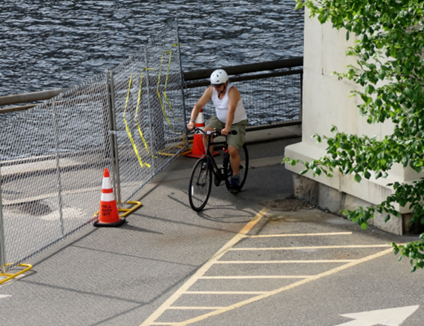 Above image shows the fencing that previously surrounded the sinkhole before steel plates were placed over the hole.