It has been a spectacular fall season full of bright colors and crisp weather – including a quick prelude to the winter season ahead with a day-long snow storm! As always, the weather doesn't stop us from maintaining the trail, nor does it stop our volunteers. We have hosted at least one group and/or individual volunteer every week this fall season and 43 groups over the course of the year – this equals over 600 individual volunteers helping to clean up Schuylkill Banks! We couldn't do this important work without the dedication of these and all of our volunteers who help us with seasonal programming, removing graffiti and litter from the trail quickly and completing many important landscaping projects that enhance the greenway. Want to help keep Schuylkill Banks clean and green? Sign up to volunteer as an individual or group by contacting us at [email protected].
If you haven't seen them yet, you should check out the plantings that were added last fall to the Locust and Market Street areas by Assistant Operations Manager Blaise Syrnick with support from the Philadelphia Parks and Recreation P3 planting program. These native plants have grown all summer long into lush habitats for urban wildlife and migrating waterfowl. Other successful landscaping projects include the continued work completed by the University City District's Greenworks program – you can see their efforts along the riverbank that parallels the Boardwalk. Please note that the irrigation systems have been turned off along Schuylkill Banks in preparation of freezing weather. This means the sprinkler system and water fountains will be off until spring. Lawn mowing will start up again in the spring also.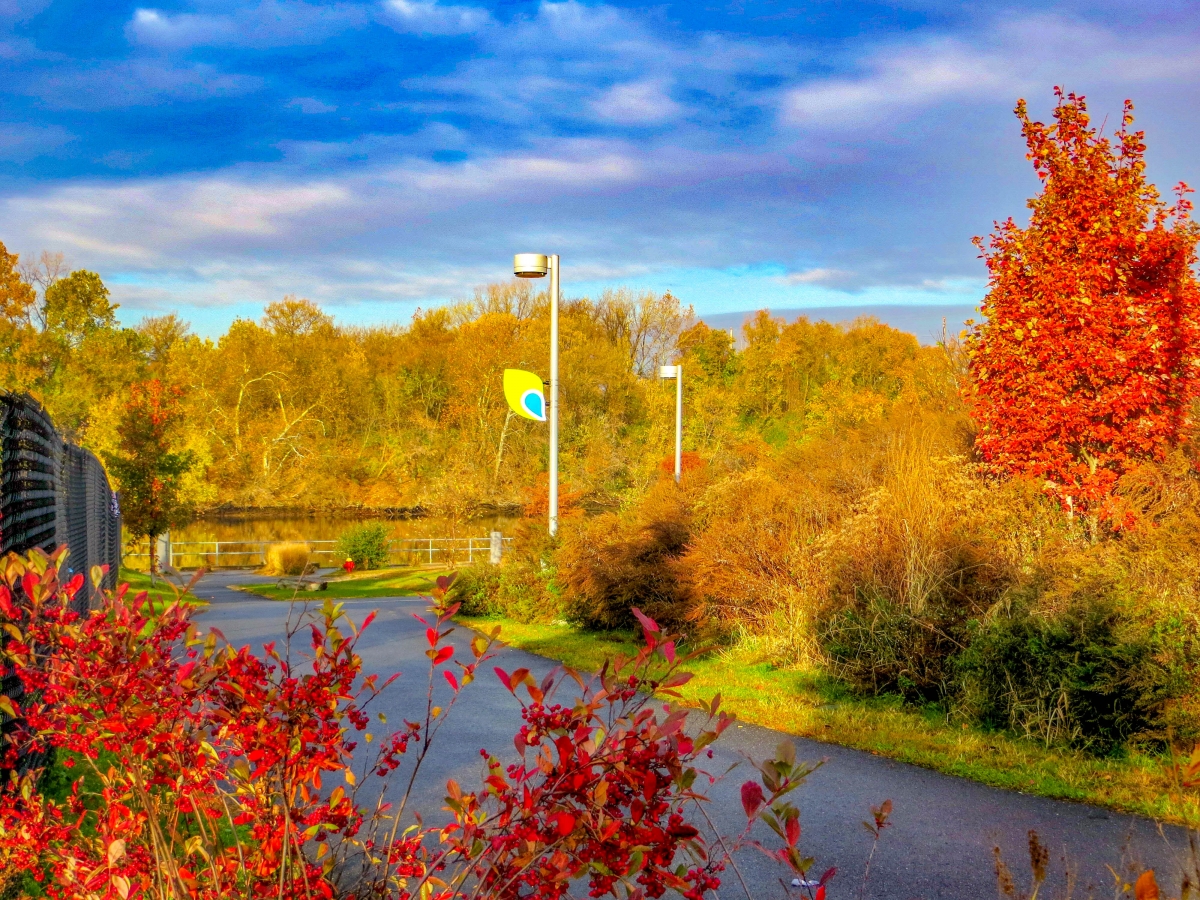 Further down the trail at Grays Ferry Crescent, fishing continues to be the popular attraction. Fall is the perfect time to fish close to the bank, so get out there (with your fishing license) and see what you can catch! While there, check out the progress of the Schuylkill Crossing swing bridge. Need another excuse to walk, bike or relax along this segment of Schuylkill Banks? It boasts beautiful views of the fall foliage and the Philadelphia skyline!
Across the river from the Crescent sits the lovely Bartram's Mile. With its unique views of the city's ever-changing skyline and its densely wooded greenway, you are sure to discover something new with every visit. SRDC and Bartram's Garden continue to work with Philadelphia Parks and Recreation to make sure that this hidden gem stays clean, green and safe all year long. Did you know that Bartram's Mile was in the news? Philadelphia recently hosted the 2018 American Society of Landscape Architects' Annual Meeting and Expo. As part of this event, field trips were planned across the city, one being at Bartram's Mile. This well-attended field trip highlighted the process for successfully creating a multi-use trail and greenway out of a landscape that was previously used for industrial purposes, including the installation of public art and the restoration of historic monuments. We are proud to see this trail segment highlighted on the national stage!