It has been a very damp summer season! Landscaping work by All Seasons, the landscape contractor managed by the City of Philadelphia to help maintain Schuylkill Banks, has done weeding and spraying and will soon begin aerating, seeding and topdressing the lawns along the Center City trail. Maintenance along the boardwalk planting areas in partnership with University City District's Greenworks program is in its second season and has been very successful. And, we have had numerous volunteer groups and individuals help us with trail maintenance during the past quarter. Thank you to all of our dedicated volunteers for a great summer!
Security cameras are now in place from Race Street all the way south to Christian Street. These cameras should help make the Banks a safe and welcoming place for all Philadelphians and visitors. Special thanks to the offices of Council President Darrell Clarke, Kenyatta Johnson of the 2nd Councilmanic District and Parks and Recreation for their financial and administrative support of this important project.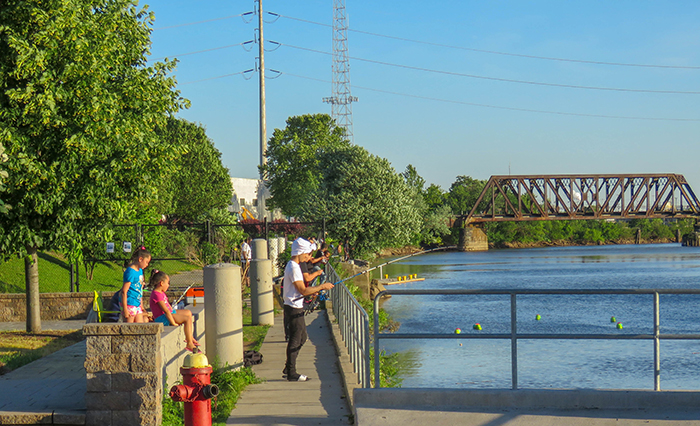 The Grays Ferry Crescent trail segment has been active with fishermen, families and skateboarders! Thank you to everyone who came out and shared a wonderful summer of movie nights down at the Crescent with us. If you haven't already, make sure to get down there soon to enjoy the park and reconnect with nature just minutes from Center City. While there, check out the Schuylkill Crossing at Grays Ferry project, which is currently in progress. The old swing bridge has been completely removed and the clearing for the new swing bridge is underway.
Bartram's Mile is also open and active. SRDC and Bartram's Garden are working with Parks and Recreation to make sure that Philadelphia's newest gem of riverfront trails is clean, green and safe. Start planning your picnics on Bartram's Mile today! Want an easy way to get there? Hop on one of our guided riverboat tours to Bartram's Garden, which leave from Center City every other Sunday until October 21.
SRDC continues to need individual volunteers to help with fall programming, as well as groups and individuals for maintenance projects along almost three miles of trail. Contact us at [email protected] or 215-309-5523 to schedule your next volunteer cleanup on the trail or add yourself to our seasonal volunteer email list.