The City celebrated the opening of the Bartram's Mile trail and greenway on Earth Day in 2017 (pictured above). The history of this mile-long trail started many years prior in 2010 when Philadelphia Parks & Recreation created its Green2015 plan to increase Philadelphia's green space by 500 acres by 2015. The site of present-day Bartram's Mile was identified in that plan as a great opportunity to increase green space, increase access to the Schuylkill River, provide the community a place to connect with nature, and create new connections to Bartram's Garden. After a conscientious planning and design process, the City celebrated the ground breaking for this project with shovels in hand in November 2015 (pictured below).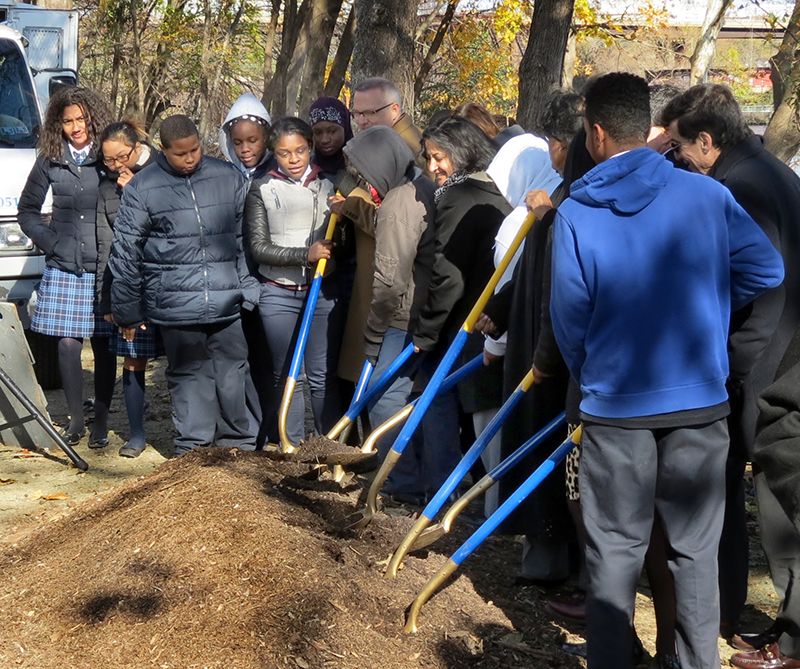 Bartram's Mile is quite possibly the most forested portion of Schuylkill Banks and has an even denser history -- read about the historic Grays Garden and Tavern here. Visit the northern end of the trail and you will find one of the oldest monuments in Philadelphia (pictured below on the left) -- read about the Newkirk Monument here. You can also see the progress of the Schuylkill Crossing at Grays Ferry project, which will soon connect Bartram's Mile and the Grays Ferry Crescent with a pedestrian- and cyclist-only swing bridge. Visit the southern end of this trail and you will find the 56th Street Plaza and expansive views of the Schuylkill River and Philadelphia's ever-changing skyline (pictured below on the right). This is also the southernmost terminus of Schuylkill Banks and the larger Schuylkill River Trail, but will not be for long! SRDC has been working with the City to extend the trail further south, and expects to start construction on that project later this year -- read about the Bartram's to 61st Street project here. Of course, you cannot visit Bartram's Mile without visiting Bartram's Garden, a National Historic Landmark and home to one of America's first great botanists John Bartram (pictured below in the middle). The Garden's staff cares for some of Philadelphia's oldest trees, maintains a wonderful variety of landscapes, and welcomes visitors near and far to participate in its thoughtful public programming.

The Bartram's Mile trail and greenway amenities continue to be improved as money becomes available. We are currently working to rehabilitate an underutilized industrial pier on the northern end for fishing and sightseeing – read about that pier project here. And the John Bartram Association is working to establish a horse stable while also developing plans for a new center to welcome even more visitors to the area.
You can access Bartram's Mile from its three trail entrances – S. 49th Street and Botanic Avenue for the northern portion, Bartram's Garden for the mid-way point, and S. 56th Street and Bartram Drive for the southern portion. All three trail entrances have limited car and bicycle parking, and all are within a short walk from SEPTA Trolley Route 36 stops on Lindbergh Boulevard.
We have been highlighting features of the Bartram's Mile trail all month on Facebook and Twitter, so check out those pages for more trail information.