Philadelphians and its visitors have been crossing the Schuylkill River at Market Street since the late 1600s by ferry and then by a floating bridge, which was built by and for the American troops during the Revolutionary War. American troops deliberately destroyed the bridge, which was rebuilt by the British Army during their occupation of Philadelphia in 1777. The floating bridge eventually washed away and was replaced by another floating bridge which also washed away. The below image depicts a floating bridge, which was built to cross the river at Grays Ferry.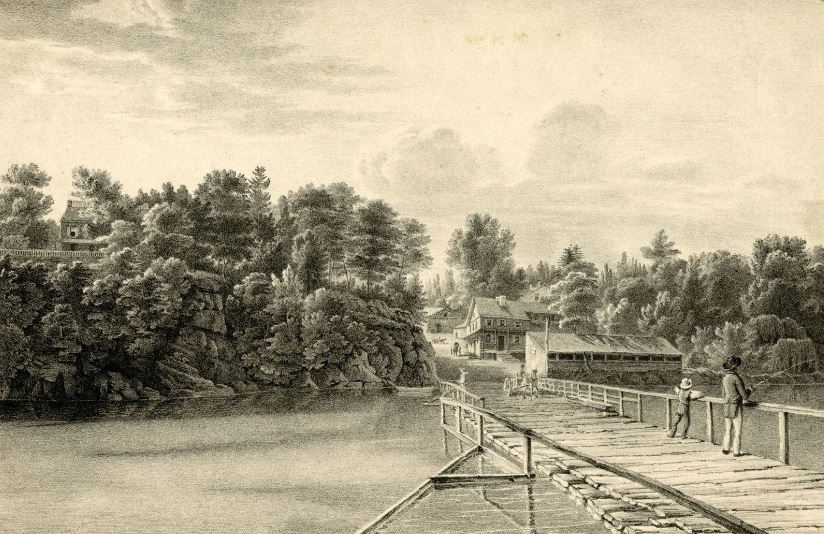 Image of a pontoon bridge at Grays Ferry. Image from the Library Company of Philadelphia.
In 1805, the Permanent Bridge at High Street (now known as Market Street) was built to replace the floating bridge. This wooden bridge was designed by Timothy Palmer and quickly became a notable Philadelphia landmark. In 1820, the bridge was covered, making it the first covered bridge in the country. In 1850, the bridge was widened to accommodate a railroad connection, and then it was destroyed by fire in 1875.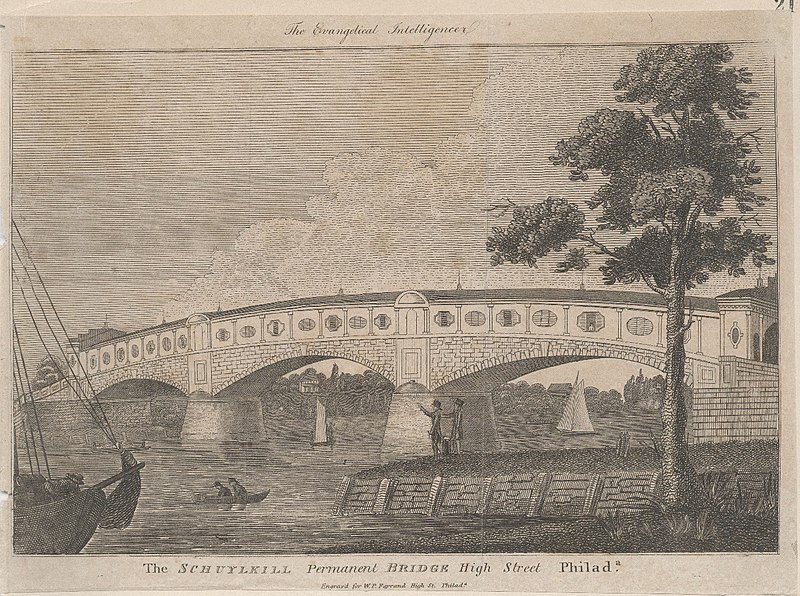 Image of the Permanent Bridge after it was covered in 1820. Image from Library Company of Philadelphia.
After the fire, the Permanent Bridge was quickly replaced with another wooden bridge that was then replaced in 1888 by an iron cantilever bridge, which was then replaced in 1932 by the bridge we see today. The stone eagles that sit on the east and west sides of the bridge were added in the mid-1960s after being removed from New York's Penn Station before its demolition. In 2009, SRDC assisted PennDOT in making pedestrian-friendly and aesthetic enhancements to the Market Street Bridge. Improvements included cleaning a century of soot and grime off the bridge façade, replacing part of the bridge railing with a more open style railing allowing views of the river and greenway, installing a new gateway pergola, placing an interpretive sign at the Market Street Bridge entrance ramp to Schuylkill Banks, and installing new benches near the bus stop at Market Street and Schuylkill Avenue.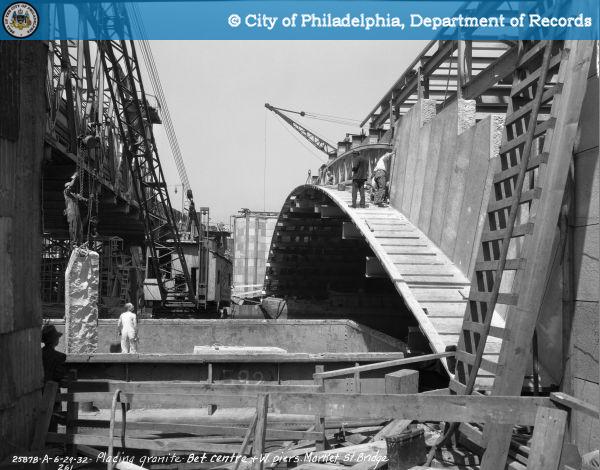 Image taken in 1932 during the construction of the current Market Street Bridge. Image courtesy of PhillyHistory.org.